Description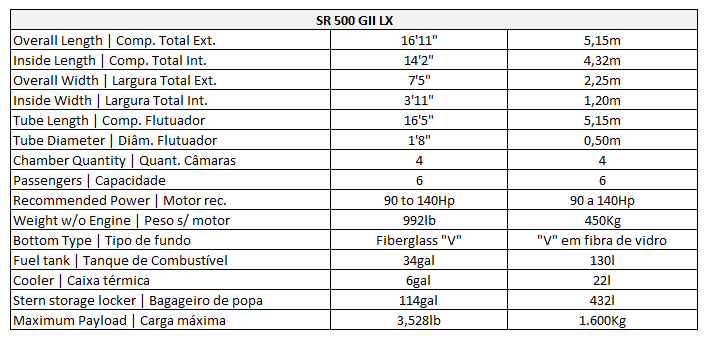 The SR 500 G II in its STD (Standard) version is equipped a tiller handle outboard engine from 40 to 60 HP. With a 40 HP engine, this boat reaches a top speed of 33 mph in fresh water.. It can carry up to 6 people and has a total capacity of 3,520 lbs (1,600 kg).
It has a 13 gallon (50 liters) stainless steel fuel tank, anchor locker in the bow with a stainless steel mooring ring to tie the anchor line, a 31 gallon (116 liters) watertight box in the bow with fiberglass cover and a 6 gallon (22 liters) capacity insulated box (cooler).
Like all FLEXBOATs, its tubes are constructed with French ORCATM Hypalon fabric, with ISO 6185-3 international certificates and Certified Solas 74 Convention, which guarantees the quality of the materials used to build the boat. It also has a bow pulpit with a stainless steel cleat for mooring, rubber reinforced protection in the bow so the tube is not damaged by the anchor line, life line in the bow on both sides of the boat and also two vulcanized rubber profiles applied all around the boat, along the sides of the tubes acting as fenders to protect the tubes during docking.