Description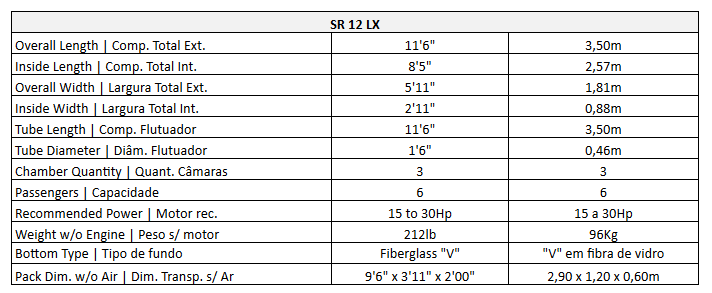 The LXE (Luxury Special) version of the SR 12 features a side mounted console with instrument panel and steering wheel, and its maximum recommended engine horsepower is 60 HP.
With its 11′ 6" (3.50m) overall length, it offers a dedicated fuel tank compartment at the bow with lid and stainless steel hinges and latch, assuring better weight distribution in the boat.
Its seat has a folding backrest and there is a glove box in the console. It can be equipped with several other optional accessories as a Bimini and a VHF radio for example.

If BOATING for you means adventure and adrenaline, you need to learn about our great sporty model!
The Flexboat SR 12 SLX (Super Luxury) is 11′ 6" long (3.50m) and holds up to 6 people. Equipped with remote control and steering, it has a center positioned drivers seat with a steering column in fiberglass with room for instruments granting easy viewing and perfect driving position.
This model can be equipped with engines up to 60 HP, which offers strong acceleration and sporty performance. Light and compact, the SR 12 SLX allows quick and safe maneuvers to be performed by anyone.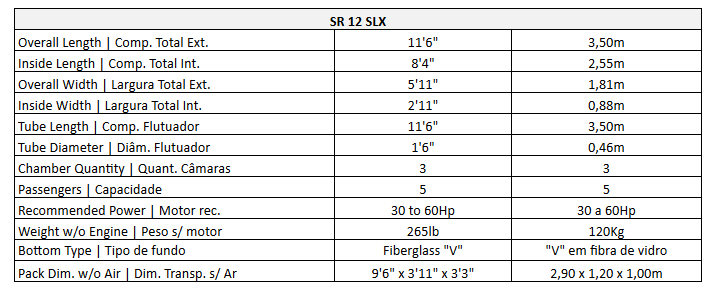 This 11′ 6" long RIB has a V bottom fiberglass hull and a fiberglass liner. Its tubes are built with ORCATM Hypalon imported from France, like all other Flexboats.
Its fiberglass cockpit has a nonskid surface. It is ideal as a tender for vessels 30 ft and above, and also for fishing and family fun.